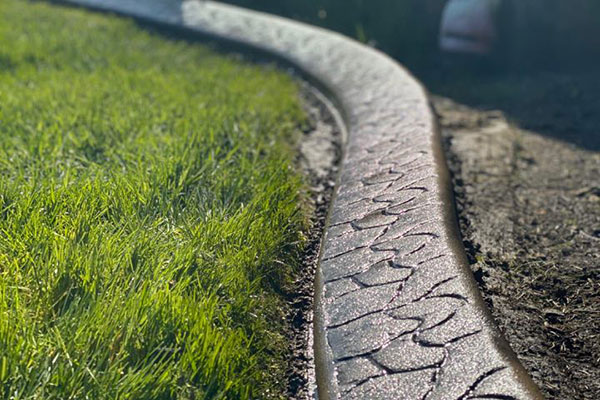 We specialize in enhancing your landscape with decorative concrete curbing. See before & after pics below and you can begin to imagine how our garden edging will beautify your landscape. Also, check out our variety of curbing patterns shown below. Visit our photo gallery for more pics.
We will assist you in selecting the design, pattern, and color that will best enhance your curb appeal. Remember that your actual results may vary. Colors as they appear on your computer or in print may not reflect the actual color of the curbing, but they are a close representation.
Once your curbing is installed, it will take about 30 days to fully cure and the color will change during this time, as the water evaporates out of the concrete. We do ask that you protect the curbing for two full weeks, not allowing anyone (and that includes your pets) walking near or on it, to avoid damage to your curbing. After two weeks, you should then back fill with topsoil right up to the front and back side of your curbing.
Garden Edging | Before & After